Agents at Neis Insurance are always available to assist their clients—you will never get an automated recording service when you really just need to talk to a real, live person. We are here for you when you need us most. Read more about our agents' specialties and backgrounds to best serve your needs.
Tom Neis

Tom grew up working at his family's drug store in Ohio, Illinois where he learned the value of strong friendships, cooperation and community involvement. While in high school, Tom's family moved to Crystal Lake, where he put down new roots and forged more friendships. Tom attended Illinois Wesleyan University and become actively involved in university government. It was also at Illinois Wesleyan that Tom met his wife, Marilyn Thies Neis. He graduated in 1970 with a Bachelor's Degree in Insurance.
Tom and Marilyn married in 1973 and began their lives in McHenry County. For several years, he worked for North American Company for Life and Health Insurance and the Illinois Department of Insurance, immersing himself in his career. In 1980, Tom started his own business — Neis Insurance Agency in Crystal Lake—built upon his reputation for honesty, hard work, and community involvement. At the same time, he became very involved in the Crystal Lake Chamber of Commerce and numerous charity concerns including the McHenry County Community Foundation and the Mayo Clinic's Alzheimer's Research.
In more recent years, Tom has expanded Neis Insurance Agency and built two related insurance businesses with his daughter, Melissa, who co-owns Parr Insurance Brokerage Agency and QR Insurance. Since 1999, Tom has served as a Director on both the Crystal Lake Bank and Trust Board and the Wintrust Financial Board, working on the Audit, Business Affairs, Risk Management, and Compensation committees. Along with his wife, he also remains involved in university alumni affairs at Illinois Wesleyan where he serves as a Trustee on the Business, Audit, and Investment committees.
In 1992, Tom started a five year process working on a Sister City match for Crystal Lake. With the help of Eisenmann Corporation in Crystal Lake, Holzgerlingen, Germany was selected. Both locations were suburban towns close to larger cities. Today, over 1,000 people have visited each
city through the program. Pleased with the result, Tom started working on a second Sister City partnering in 2011 with Mudu, China located outside of Shanghai. With 100,000 residents and a history dating to the Qing Dynasty, it could be the perfect partner for Crystal Lake.
Tom enjoys all sports, although he plays less golf then he'd like, and still is energized by the successes and challenges that come with business and family. He is still proud of the hole-in-one he shot in Scotland!
Email Tom: tom@nullneisinsurance.com
Chris Christensen

As Area Vice President for Neis Insurance Agency, Chris provides exceptional service for commercial insurance as well as auto and home. On the commercial side, he specializes in placing coverage for manufacturing, contractors, nonprofits, home healthcare and workers' compensation needs.
Chris listens to his clients to learn what they want and need for peace of mind. He crafts policies that best fit each unique situation and is usually able to secure insurance protection for those whom larger, national agencies cannot.
A McHenry native, Chris graduated from McHenry East Campus and served in the U. S. Army for three years. He has a Bachelor's Degree in business from University of Illinois Chicago. Starting his career at Motorola as an inside sales rep, Chris was recruited by an area insurance franchise, which led to involvement in the Crystal Lake Chamber of Commerce. Chris's networking with the Chamber developed into a career opportunity at Neis Insurance in 2004.
Chris serves on the Crystal Lake Chamber Board of Directors, is one of the founding members of the Chamber's Young Professionals Group, and chairs the Chamber's networking group program. Active with Elementary School District #26, Chris is a member of the Community Engagement Panel. Chris and his wife Renee live in Cary with their two children. He is an active runner and competes in as many races as his busy schedule allows.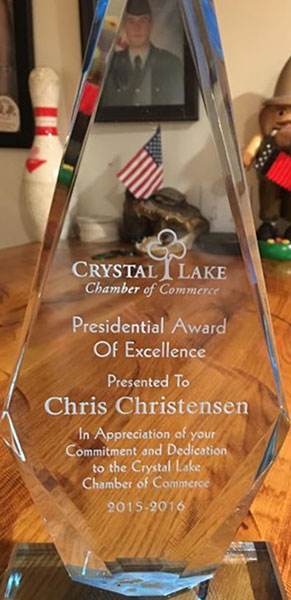 Email Chris: chris@nullneisinsurance.com
David Albanese

David graduated with honors from Wheaton College with a liberal arts degree in Business/Economics.  Since graduation, he has worked in the finance or sales industry and joined Neis Insurance in October 2009. "I feel like I have really found a home," David says about the agency.
An agent for personal and commercial property & casualty, David also manages individual health insurance, Medicare supplements, and long-term care for the agency, as both an agent and customer service representative.
David's customer service philosophy is to educate his customers so that they understand what they are purchasing, why they are purchasing it, and how it best fits their needs. "The only way to do this is by getting to know my customers and listening to them, instead of using some sort of cookie-cutter approach that places everyone in the same category," he states.
Outside of work, David enjoys staying active with flag football, golf, running, and summer softball. He has a large family and enjoys spending time with and spoiling his niece and nephews.
Email David: david@nullneisinsurance.com
Dave Meyer


David joined Neis Insurance in 2010. His expertise in the agency lies in Group Health Insurance and Ancillary Lines. With so many recent changes to the health care laws, David now is learning the new information and educating his clients on what this means to them and their health care policies.
Working in the insurance/benefits arena since 2000, David is focused primarily on all aspects of benefits for Employer Group Coverage. He has experience that ranges from large, self-funded types of insurance to small group, fully insured plans. Prior to his work in the insurance industry,
David worked in management for 20+ years, handling human resources issues including union contract negotiations.
A native of Northern Illinois, David has been married to his wife, Michelle, for 24 years and has three children in high school.
Email Dave: dave@nullneisinsurance.com